PECo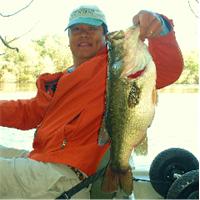 Joined: 06 Oct 2009
Posts: 5203
Location: Avon, CT
Posted: Thu Feb 15, 2018 1:43 am

Post subject: Housatonic River - Sunnyside 02/14

---

I just realized that it's Valentine's Day. It is, right?

Anyway, after spending a long weekend in Washington, DC, I finally had a chance to hit the lower Housy, again. Conditions looked pretty good:





I planned to enjoy a relaxing day fishing alone, so I took my own sweet time. I launched at 9:10 am and left the water at 2:20 pm. I never left sight of the boat launch ramp at Sunnyside. Yes, I know that I probably

should

have looked around, but I saw fish on the finder and boated one in less than 10 minutes:



There were large schools of fish scattered everywhere in front of Sunnyside. I worked my way around a little bit, before hitting the Spot Lock in front of the ice that still covers most of the cove at Twomile Island.

The only lures that worked for me were small four- or five-inch split-tail flukes on 3/8 to 1/2 ounce jigheads. In my head, I imagined the fish watching the flukes slowly swimming up from the bottom, before swimming back down. They would pick them up when I paused my retrieve and let the fluke drop.

Unfortunately, "they" were all rat schoolies like the first one. Fortunately, I only boated one snagged fish all day, although I almost snagged a bunch; I boated quite a few scales. Only gentle movements of the lure and crushed barbs were a must.

Tomorrow's weather forecast looks pretty good. Does anyone else want to go?
_________________
Don't forget to wear sunscreen and don't litter!