PECo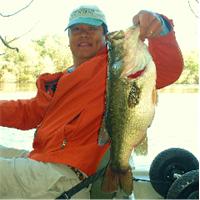 Joined: 06 Oct 2009
Posts: 5182
Location: Avon, CT
Posted: Fri Mar 09, 2018 11:19 pm

Post subject: Spring Pond 03/09

---

I had a little free time, today, so I hauled El Habañero down to Spring Pond and paddled from 11:15 am to 2:15 pm. Yes, it snowed while I was on the water; just flurries, but real snow. And the water was a lot crunchier than I expected:



However, I did manage to boat an oxymoron:



Yes, that's a winter fall fish.

Unfortunately, I only got the one bite, but I only threw a white two-inch curlytail grub on a 1/8 ounce ball jighead. I tried throwing a Rapala Shadow Rap, but jerkbaiting from a kayak is hard enough without a mid-30s air temperature and 10 mile per hour wind. Plus, it got stuck in the ice! I guess I'll try that from my bass boat, the next time.
_________________
Don't forget to wear sunscreen and don't litter!