PECo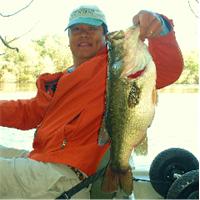 Joined: 06 Oct 2009
Posts: 5182
Location: Avon, CT
Posted: Wed Mar 28, 2018 9:18 pm

Post subject: Nod Brook WMA - Upper Pond 03/28

---

I paddled the upper (aka south) pond at Nod Brook WMA from 11:40 am to 2:40 pm, today. The sky was mostly overcast. The air temperature was in the mid to upper 50s. A light south wind came and went. The water was stained but clear down at least three feet. The surface water temperature was 48 degrees.

I threw a Ned Rig (aka 1/6 ounce Z-Man Power Finesse Shroomz Jighead with a two-inch piece of Green Pumpkin/Red Flake Senko), a drop shot 2-1/2 inch Emerald Shiner Gulp! Minnow, a Green Pumpkin/Red Flake five inch Senko and a translucent green Whopper Plopper 90.

I didn't get a single bite. The only fish I saw was a carp that swam slowly, insolently, past my kayak.

I gotta try something different.
_________________
Don't forget to wear sunscreen and don't litter!