PECo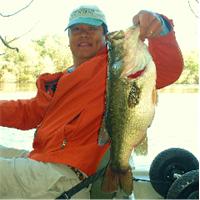 Joined: 06 Oct 2009
Posts: 5201
Location: Avon, CT
Posted: Fri Apr 20, 2018 9:22 am

Post subject: Housatonic River - Sunnyside 04/18

---

I wasn't going to post a report, but felt that I should make the following Public Service Announcement:



Yeap, the ramp at the Sunnyside Boat Launch Facility in Shelton will be closed on Saturday, April 21, for the river cleanup.

I fished with my buddy Glenn for the first time on Wednesday. I met Glenn on the water in the middle of February. He and I were each fishing alone in our own boat, so we decided to get together sometime in the future. I've been fishing the Connecticut River and traveling, so it took a while, but we finally made it out there.

The fishing conditions were pretty good, except for the steady wind that blew through the vast, empty space between my ears all day.





We launched at 7:30 am, so we caught the end of the morning's outgoing tide. Although we were on my boat, we fished mostly Glenn's preferred style, which is on the drift; I usually fish the RichZ way (well, I try to, anyway), which is stationary, using Spot Lock on the trolling motor to stay on top of a school of fish.

I caught the first fish as we started figuring out the logistics of fishing together:



We probably had six or seven doubles:



We would have had more doubles, but I had trouble un-spazing my retrieve. When you fish stationary, you provide most of the motion to the lure, other than what the current provides. When you fish on the drift, the boat provides a lot of the motion to the lure and negates some of the motion provided by the current. For that reason, any motion you provide to the lure has to be a lot more subtle when you're on the drift than when you're stationary. I'm used to sharply twitching my lure and the fish didn't like that. Glenn was gently lifting his lure and letting it fall back down. He out-caught me by at least two to one.

We got off the water at 5:15 pm and weren't counting, but a reasonable guesstimate of the number of fish we caught would be 90. We didn't get anything close to keeper-size, but the vast majority of our fish were in the 20 to 24 inch range. Here's a photo of me with one of the better fish:



My freshwater bass fishing club tourneys will start this weekend and I'll still be traveling a lot, so it might be a while, again, until I can get back down to the lower Housy. Hopefully, I'll do better with the freshwater bass.
_________________
Don't forget to wear sunscreen and don't litter!