PECo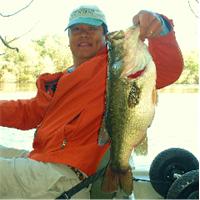 Joined: 06 Oct 2009
Posts: 5201
Location: Avon, CT
Posted: Fri May 18, 2018 10:18 pm

Post subject: Connecticut River - Haddam Meadows 05/18

---

I swapped out the cranking battery in my bass boat on Thursday, so JJay (aka Jason) and I took the boat out for a test run, today. The weather forecast looked pretty good:



With the wind out of the east, we decided to fish the Connecticut Yankee Atomic Power Plant discharge canal. Unfortunately, the tides weren't ideal, because we launched at 9:00 am, right before the slack low tide:



We caught a lot of fish before we got off the water at 4:00 pm. The first one I boated ended up being the lunker largemouth bass:



It weighed only three pounds, one ounce, but it was a chunker. We got six keepers and several shorts into the boat. We also caught a bunch of black crappie:



I actually lost what was probably an even bigger one when the six pound test fluoro line I was using broke. That became a little bit of a disappointing pattern, because I also broke off another three-plus pound largemouth bass and a huge northern pike that might have been 40 inches long. After I switched to a setup spooled with 15 pound test fluoro line , I boated a surprise channel catfish:



Just when I began to wonder where all of the chain pickerel went, I caught one, of course:



And then, I caught a consolation pike:



Now, Jason DID catch some fish, too:



Okay, so not ALL of his fish were dinks:



After being out of town for almost two weeks, it was nice to come home to more of a summertime bite. Hopefully, this weekend's rain won't kill it.
_________________
Don't forget to wear sunscreen and don't litter!