PECo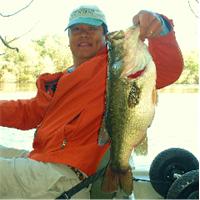 Joined: 06 Oct 2009
Posts: 5201
Location: Avon, CT
Posted: Mon Jun 11, 2018 11:15 pm

Post subject: Bantam Lake 06/09 and 06/10

---

I was in New Jersey during the week, so the only day I had to pre-fish for my Sunday Empty Lake Bassmasters tourney was Saturday. Luckily, rmflint (aka Ryan) was free to fish on both days, too.

On Saturday, when I got to the State Boat Launch at 6:10 am, I saw that another boat from our club was already on the ramp. Ryan was running late, so I launched alone and fished nearby while I waited for him. I figured that the bass were probably in the same post-spawn funk as those at Candlewood Lake, so I tossed weightless wacky-rigged Senkos shallow at docks, preferably non-floating, and rock piles. Hey, it had worked well at Candlewood! It didn't take long for me to boat a tiny chain pickerel and two small keeper largemouth bass:



After Ryan showed up at 6:55 am, we headed out to check out more docks and rock piles. We found rockies. Lots and lots of rockies. In an effort to get bites from bass, instead of rockies, Ryan tried throwing a small Keitech swimbait on a shakeyhead jighead. He didn't catch any rockies with it, but he did get this small northern pike:



We continued to throw wacky Senkos at shallow docks and rock piles, but I caught our best bass from a tiny clump of isolated lily pads:



Although it looked like a big girl to me, it was, apparently, a very late bedding male:



The five pound, six ounce, fish was my second Connecticut five-plus pound bass of the year. Whoo hoo!

Ryan caught some keeper bass, too:



We ended up catching seven or eight keeper largemouth bass and our five-fish bag would have weighed over 12 pounds. However, the bass we caught were in seemingly random spots, so we never figured out a pattern and didn't come up with much of a strategy for the next day's tourney.

On Sunday, the tourney ran from 6:00 am to 2:00 pm. The weather was just about perfect:



The water temperature hung around 70 degrees all day and we could see down about two to four feet just about everywhere. The fish beds we saw were mostly empty, except for some with sunnies on them. We had heard that the DEEP did a chemical weed kill there a couple of weeks earlier and it showed. We saw mostly dead weeds and some small fluorescent green algae blooms. Great.

We started fishing with wacky Senkos around the ramp, again, and got three bass into the livewell within the first 30 minutes. Ryan caught a nice three pounder, then I caught a small one that might have been the same one I had caught first on Saturday. However, I caught the third one in a big bed of lily pads with a Bullfrog Zoom Horny Toad. Go figure.

We headed up to the North Cove, where, after catching dozens of rockies, I boated our fourth keeper bass with a wacky Senko tossed next to a swim platform. So, yeap, our tactic of fishing non-floating docks and rock piles went right out the window.

We fished the lily pads along the north shore with wacky Senkos tossed at the edges and toads swum over the tops, but didn't catch anything in them. Well, except for a small northern pike and this little f#@&er:



It wasn't until the last two hours of the tourney that Ryan caught our fifth keeper with a wacky Senko tossed next to a dock; a floating one, of course. Hallelujah!

We decided to try something, ANYTHING, differently to catch bigger bass, instead of rockies. Ryan caught a good bass with a small swimbait on a dropshot in deep water that culled the small keeper I had caught at the beginning of the day.

After that, we mostly dropshotted the small swimbait and a small minnow for the last hour of the tourney, but could only manage a couple of shorts.

At the weigh-in, we found that only three out of the five boats in the club had full five-fish bags. The winner had a bag over 11 pounds. We had nine pounds, nine ounces, but were beaten out of second place by a boat that had nine pounds, 10 ounces, including the three pound, six ounce tourney lunker. Which boat was that you ask? The one that had launched right before us on Saturday. Arrgh!

So we ended up in third place out of five boats. But no fish died in my dead pool, er, livewell, and Ryan did good, having caught our two best bass:



We'll just have to get 'em the next time.
_________________
Don't forget to wear sunscreen and don't litter!