PECo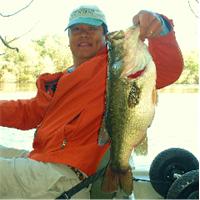 Joined: 06 Oct 2009
Posts: 5201
Location: Avon, CT
Posted: Wed May 23, 2018 8:01 am

Post subject: Bantam River 05/21

---

After missing my club tourney on Sunday, I just HAD to get out on the water on Monday. Where and how (i.e., kayak or bass boat) depended on the condition of my left index finger in the morning, because in the evening on Sunday, it got crushed. And, no, I didn't get punched in the nose. I crushed it with a log while cutting and splitting wood. It was a VERY BIG log.

Anyway, I read that you should ice, elevate and use a crushed finger, so JJay (aka Jason) and I paddled Bantam River upriver from the canoe launch on Whites Wood Way/Mattatuck Trail to Little Pond. We were on the water from 10:00 am to 2:15 pm. The weather was absolutely beautiful for a nice, leisurely paddle:



I hadn't been to the canoe launch in a long time and was surprised to see that it had been improved. They brush has been cleared, the launch graded and gravel has been laid over the entire area:



As usual, I was able to boat a fish in the time that it took Jason to launch:



Although the weeds are starting to grow in and the pads are emerging, the river was flowing well and there was very little algae. I never saw any fish beds, although Jason swears he saw some empty ones.

We took it easy and kept it simple. Jason threw a Catalpa Zoom Horny Toad and I threw a weightless, wacky-rigged, five-inch, Green Pumpkin/Large Red Flake Senko. To make a long story short, I caught largemouth bass and Jason caught toothy critters.

I caught about 10 largemouth, but only four were keepers up to 15-1/4 inches long:



I also caught a couple of small chain pickerel; one was around 22 inches long and the other the size of a big bratwurst.

It took a while, but Jason boated a small chain pickerel:



And he also boated this:



Now, I'm not certain, but doesn't that look like a chain pickerel/northern pike hybrid? Unfortunately, that's the only photo he got of it.
_________________
Don't forget to wear sunscreen and don't litter!