PECo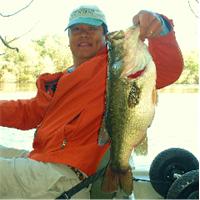 Joined: 06 Oct 2009
Posts: 5203
Location: Avon, CT
Posted: Thu Jan 10, 2019 9:08 am

Post subject: Housatonic River - Sunnyside 01/09

---

I finally bought my 2019 fishing license and went fishing with Wanna Fish (aka Carl) for striped bass on the lower Housatonic River. Before we headed down to the ramp at the Sunnyside Boat Launch Facility in Shelton, we had to stop at Shelton City Hall, so that I could buy my 2019 permit. I've heard that they've recently been strict about non-resident parking. Now, you might get ticketed for simply parking at Sunnyside without a permit, even when you're not towing a trailer.

The weather forecast of air temperatures in the low 40s with winds up to 20 miles per hour was fairly accurate, although the forecast west wind seemingly blew from every direction at one time or another. Dead low tide in Shelton was at 8:25 am, and that's just about when we launched. We ended up fishing for four hours, until 12:30 pm.

Although we marked plenty of fish on the finders from Sunnyside to the north end of Twomile Island, the bite was slow. Excruciatingly slow. The fish in the massive schools were crazy finicky. They seemed to only want to bite small four or five inch flukes on 1/4 or 1/2 ounce jig heads fished very, verrry slowly. A quickly fished jig would snag a fish, anyway, but three bites per hour is ridiculously slow. Starting our day at dead low tide was probably not the best strategy. After all, it's all about the flow!

In any case, Carl and I each caught our first fish of 2019. I got mine first:



Carl got his less than 30 minutes later:



We ended up boating only a dozen, plus two that I snagged underneath the chin. When we headed back to the ramp, the schools we motored over were still massive:



We had our first boating malfunction of 2019, when my winch strap broke, but I kinda wanted to get a new winch, anyway:



Yay, me, I guess.

Anyway, I hope that everyone gets to go fishing more often in 2019 than they did in 2018.
_________________
Don't forget to wear sunscreen and don't litter!