PECo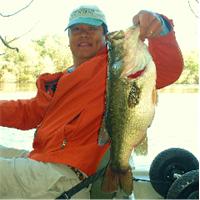 Joined: 06 Oct 2009
Posts: 5193
Location: Avon, CT
Posted: Mon Apr 08, 2019 10:12 am

Post subject: Connecticut River - Hamburg Cove 04/05

---

After I left Bishop Swamp in Andover, I decided to drive down to Lyme for a hot meal and check on whether the anadromous white perch have made it into Hamburg Cove. First, I enjoyed yet another Fish Reuben and hot coffee at Rustic Cafe in East Lyme:



Iím addicted to that sandwich!

I was on the water from about 3:30 pm to 5:30 pm. Before I launched my kayak, I saw that it was much windier in Lyme than it was up in Andover. I could tell that the wind was whipping up the outer cover from the south and decided to stay in the inner cove. The water temperature was unchanged from the prior week at only 48 degrees. As usual, the water was crystal clear, but the glare from the overcast sky made it tough to see the dark bottom. Iím pretty sure that I caught the last of the outgoing tide, but didnít check the tide table.

A week earlier, the largemouth bass were biting, so I started by throwing a weightless, wacky-rigged, five inch, Green Pumpkin with Red Flake Senko. I didnít get any action at all, so I switched to a drop-shot, 2-1/2 inch, Pearl Silver Gulp! Minnow and began focusing on catching perch. So, of course, I caught a largemouth with it:



And only four minutes later, I finally, FINALLY caught a perch, although it was yellow, not white:



I didnít get any more bites after that and saw no sign of any white perch. I guess Iíll have to keep driving down there to check on them. . . and eat more Fish Reubens!
_________________
Don't forget to wear sunscreen and don't litter!