PECo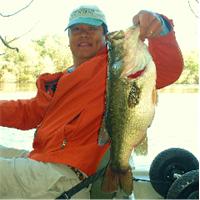 Joined: 06 Oct 2009
Posts: 5203
Location: Avon, CT
Posted: Tue Sep 28, 2021 7:41 am

Post subject: Connecticut River - Baldwin Bridge 09/25

---

Wanna Fish (aka Carl) and I fished the mouth of the Connecticut River from the Baldwin Bridge State Boat Launch on Saturday. I normally avoid the busier state boat launches on the weekend, but Carl was free and I really, REALLY felt the need to catch a big bluefish.

The weather was gorgeous. The air temperature was in the mid to upper 50s and would rise up into the mid to upper 70s during the day. There was very little wind, although high humidity made it feel chilly. There were a few scattered clouds in the sky, but we could tell that it would end up being a sunny day.

We beat the crowd and launched in my little bass boat at 6:00 am. The low tide at Saybrook Point was around 8:00 am, so we got to fish the last of the outgoing tide. It wasn't a very fast tide; the water level dropped less than 2-1/2 feet from the high tide.

We started off by drifting down the west side of the channel from the railroad bridge. We could see occasional splashes from bait in the water and most of the reefs on the western flats were either out of the water or about to appear. We drifted all the way down to the channel out of North Cove with only two fish sightings. Carl got a swirl on his 7-1/2 inch Sluggo and my Daiwa SP Minnow got bit by a small schoolie striped bass that self-released boatside.

Before we made a move, we had to run back to the ramp, because Carl forgot something. 🤨 By the time we got back out, the sun was up and we headed to a reef in the middle of the channel. It didn't take long before we saw activity behind our lures. My SP Minnow fouled up and as I quickly retrieved it, a fish slammed it. I figured that it was a big blue, because my fouled lure was essentially a popper at that point, but when I finally got it to the surface, we saw that it was a striper. It ended up being a nice 30-inch slot fish.

At that point, the bite was ON. Carl's Sluggo survived some non-blue hits before he hooked up and boated a 27-inch striper. His next hit was from a blue that bit his Sluggo in half, but then he managed to hook up with one. I switched to a 9-inch Sluggo and, while he was fighting the blue, I hooked up with a striper. Double!

On my next hit, my Sluggo got bit clean off by a big blue that came up underneath it like a ballistic missile, so I switched to a big popper on a wire leader. When the next blue slammed it, I knew that it was a good one. Carl got a terrific video of me fighting it. It looked like a little tarpon, leaping clear out of the water and shaking its head. I couldn't get my digital scale to tare, but it was definitely one of the bigger blues that I've ever caught. I'd bet that it was over 16 pounds.

After that, Carl boated another 30-inch slot striper with his Sluggo, so the big girls are definitely inshore right now.

The bite died with the tide. We tried to wait out the slack low for the incoming tide, but it never seemed to really pick up. We saw a lot of big, unmolested schools of bunker milling around all over the place. I even snagged one with my SP Minnow.

I caught one more good blue with the SP Minnow at about 11;30 am, before we finally decided to get off of the water and grab lunch somewhere. In the end, we boated six stripers, of which two were 30-inch keepers, and five blues. And lunch at Aspen Restaurant in Old Saybrook was terrific, too!

I'll try to update this post with photos, if I can get them to upload.
_________________
Don't forget to wear sunscreen and don't litter!